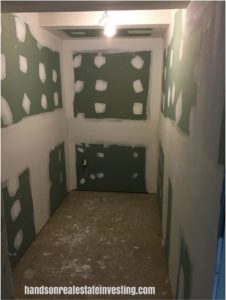 We are embarking on our first renovation project! We just purchased a 4 bedroom townhouse, and the 4th bedroom is on the lower level. It has space for a walk-in closet, and we are hiring a contractor to hang drywall, paint, add carpeting, light fixtures, shelves, etc. We are very excited about our project because it will add monthly rental income and market value to the rental property!
We used Home Advisors to search for a licensed, bonded, and experienced contractor. If you haven't heard of Home Advisors, they pre-screen contractors for you. Customers provide feedback on the Home Advisors website, and you can also ask for references. You provide a description of the work, and contractors contact you and provide an estimate. We signed a contract a few days ago, and the contractor began work the next day. He has already hung drywall and plastered.
The contractor is making quick progress on the walk-in closet. Painting is complete, shelves have been installed, access panels are finished. The only thing left is to add plywood sub-floor and carpeting to match the bedroom closet.
County regulations require that a room has a closet to quality for "bedroom" status. The walk-in closet costs $2,617.00, which seems pricey. However, we expect to receive an extra $240 per month in rental income. Therefore, the walk-in closet will pay for itself in less than 1 year!
For an excellent overview of closet costs and requirements by Home Advisors, click here.
Stay with us we experience a first-time renovation. If this contractor does an excellent job on the walk-in closet, we may have him add a full bathroom to the lower level.
Have you embarked on any renovations and have experiences and tips you would like to share? If so, please share your experiences and tips by:
Enter your comment below
Tweet us on Twitter
Subscribe to our YouTube channel
Follow us on Instagram
Pin us on Pinterest
Follow us on Google+
The opinions expressed herein are solely those of the Author/WebMaster. Before taking any action, please consult your real estate, financial, and legal advisors.