We have a 3 bedroom brick townhome ready for rent! It has 3 levels of living space, 1 full bathroom, 3 half baths, and a stunning brick fireplace in the lower level family room! Our lease requires that tenants have the rental property professionally cleaned when they move out. Our strategy for getting the property ready for rent includes 4 steps:
Assess the damages during the move-out inspection
Make necessary repairs
Paint or touch-up paint
Replace carpeting or flooring, if necessary
In our opinion, the brick fireplace is the standout feature of this rental property. We added new carpeting and floor tile on the lower level to enhance the visual of the fireplace.
The lower level has been painted to add appeal to the lower level. For tenants who have children, a large, open space for playing and/or entertainment is important. If the property has a backyard, fencing will keep children and pets safe.
On the main level of the townhouse, the galley kitchen is the standout feature! It has eye-catching oak cabinetry, Pergo hardwood flooring, granite countertops, and full-size appliances.
Lots of counterspace is important for kitchens! Full-size appliances also attract interest! Tenants with children love full-size, modern appliances!
Even though galley kitchens are small in size, if they are packed with upgraded cabinets, granite countertops, full-size appliances, and flooring that blends with the decor, the galley kitchen becomes a selling feature!
The dining room has Pergo hardwood flooring, upgraded light fixture and a large bay window that looks out to the front of the townhouse.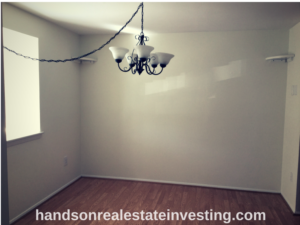 The living room has energy-efficient sliding glass doors leading to a wooden deck. If the tenant has to pay utilities, energy-efficient features become an important marketing tip!
There are 3 bedrooms and a full bathroom on the upper level of the townhouse. The master bedroom has extra storage space to the left of the closet. Extra storage space is very important to families!
The master bedroom also has a half bathroom with new floor tile.
For beginner real estate investors, it is important to make sure your rental property is clean and well-maintained. Learn what prospective tenants want in a property and give it to them! How do you find out what they want? Ask them! We have found that tenants like kitchens with upgraded features, closet space and extra storage space. Bathrooms are also important to families. The more bathrooms, the better. If you can upgrade the vanity, cabinet space and flooring, the bathrooms will be even more appealing. Do you have tips for getting your rental property ready for rent? If so, please share your experience:
Enter your comment below
Tweet us on Twitter
Subscribe to our YouTube channel
Follow us on Instagram
Pin us on Pinterest
Follow us on Google+
The opinions expressed herein are solely those of the Author/WebMaster. Before taking any action, please consult your real estate, financial, and legal advisors.