It's Foreclosure Saturday! We have a standing 4pm appointment every Saturday to meet with our Real Estate Broker and look at foreclosures. We believe the real estate market is poised to take off and we want to be on-board the rocket ship! Therefore, we are always looking. When you think of foreclosures, you probably think of properties in poor condition, and sometimes they are … In this case, we are viewing a 3 bedroom 2 bath townhouse that needs work. The common term for this property would be "fixer upper." When we visit fixer uppers, we estimate how much work we have to do to get the property in condition to be rented. Here are the 2 critical areas we inspect:
Water Damage
Termite Damage
Water damage typically shows up on the ceilings. When we spot water damage, we try to locate the source by checking the room above the ceiling.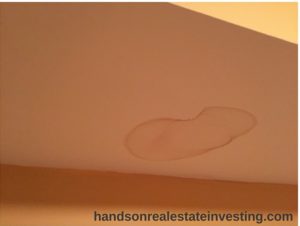 In this case, the source of the water damage is under the kitchen sink. It looks like there was a leakage from the pipes under the kitchen sink.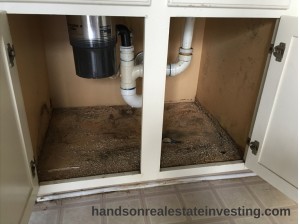 To locate termite damage, we look in areas with exposed wood such as utility rooms, unfinished basements, outside door frames. We look for tracks leading up the wood. For our experience regarding termite damage in a townhouse foreclosure, click here.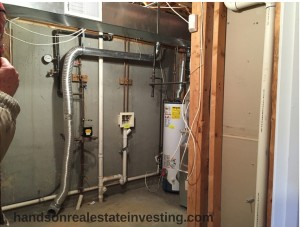 This particular property was in fairly good condition. The townhouse needs paint, carpeting, and a good cleaning. The kitchen needed the most work.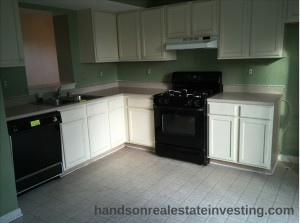 All of the cabinet knobs were removed. The stove and dishwasher may need repairs. The master bathroom needs a major cleaning, especially the bathtub shown in the video below.
The living room/dining room combo needed paint and new carpeting, as you can see below:
The lower level powder room and bonus room were in good condition.
When we view a foreclosure, we estimate how much it will cost to make repairs. We subtract that amount from the list price. Since we are assuming risk, we also knock off an additional 10% -20% from the asking price, depending on the condition of the property. We begin negotiations with the seller by making an offer. The first offer is a test to see where the sellers "low point" is. Once we receive a response from the seller, the negotiations begin! [In this case, a major bank owns the foreclosure, so there is no emotion involved on the seller's part. We have learned that it's best to deal with emotion-less sellers. When making low-ball offers, we don't have to worry about insulting the seller. To learn more about negotiating real estate transactions, click here.
To see more of our foreclosures, watch our Chasing Foreclosures playlist on YouTube!
Have you discovered any tips when bidding on foreclosures, particularly fixer uppers? If so, please share your tips:
Enter your comment below
Tweet us on Twitter
Subscribe to our YouTube channel
Follow us on Instagram
Pin us on Pinterest
Follow us on Google+
The opinions expressed herein are solely those of the Author/WebMaster. Before taking any action, please consult your real estate, financial, and legal advisors.