It's Foreclosure Saturday! We have a standing 4pm appointment every Saturday to meet with our Real Estate Broker and look at foreclosures. We believe the real estate market is poised to take off and we want to be on-board the rocket ship! Therefore, we are always looking. When you think of foreclosures, you probably think of properties in poor condition, and sometimes they are … However, we have been pleasantly surprised at the excellent condition of the recent foreclosure properties. For example, take a look at this 4 bedroom 2.5 bath townhouse.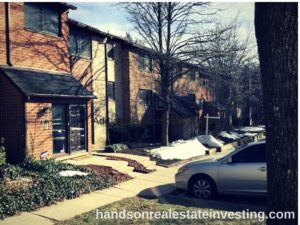 It is a large brick townhome in a very nice neighborhood. Children can walk to excellent elementary and middle schools. The neighborhood shopping center is within walking distance.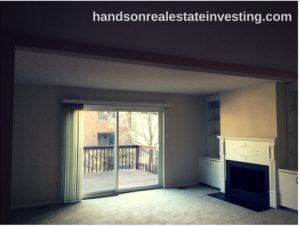 The townhouse has 3 levels of living space. On the main level is a large living room with a fireplace and built-in shelves. The dining room has beautiful hardwood floors and an attractive light fixture.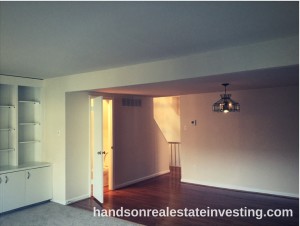 The kitchen has modern appliances. The dishwasher needed to be cleaned, but the refrigerator, oven and microwave were clean and in excellent condition!
On the top level, there are 3 bedrooms and 2 full baths. Each bedroom has a ceiling fan, which helps circulate the air and can reduce air conditioning costs in the summer.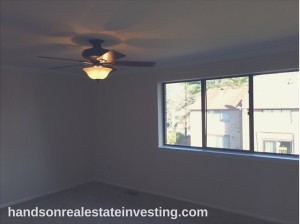 The master bedroom also has double (his and her) closets, which women love!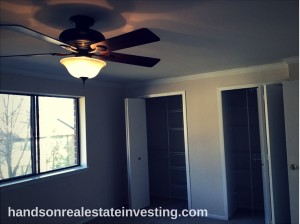 The entire property has been cleaned and painted. The carpets and flooring look brand new. The 2nd and 3rd bedrooms are small (10'x8′), but each has a ceiling fan and closet.
On the lower level, there is a 4th bedroom, which needs to have the closet finished (plywood, plaster, paint). There is even a rough-in for a bathroom. A finished family room is carpeted, and leads to a fenced-in backyard.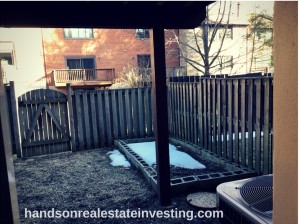 Foreclosures are sold "as-is," which means the seller does not warrant or guarantee anything. It is extremely important to have a certified home inspector perform a home inspection. We have had very good results with U. S. Inspect. Even though foreclosures are sold as-is, sometimes the lender will require the seller to repair heating and air conditioning. A few years ago, we were fortunate enough to purchase a 3 bedroom 2 full bath condominium foreclosure. When the appraisal was conducted, the the appraiser found the heating and air conditioning system (HVAC) to be faulty. The appraiser notified the lender, and the lender refused to finance the property until Fannie Mae replaced the HVAC! Therefore, we received a free HVAC courtesy of Fannie Mae! It was a totally unexpected gift, and we were elated!
To see more of our foreclosures, watch our Chasing Foreclosures playlist on YouTube!
Have you been fortunate regarding foreclosures? If so, please share your good fortune and foreclosure tips:
Enter your comment below
Tweet us on Twitter
Subscribe to our YouTube channel
Follow us on Instagram
Pin us on Pinterest
Follow us on Google+
The opinions expressed herein are solely those of the Author/WebMaster. Before taking any action, please consult your real estate, financial, and legal advisors.