We recently became aware of a 3 bedroom 2.5 bath townhouse for auction. It was listed for a minimum of $207,000 plus a premium of 4.5%. We asked our Real Estate Agent for "comps" and discovered that a townhouse in the same development sold for $292,000 more than a year ago. To the naked eye, the home appeared to be in good condition. It required general cleaning, touch-up paint, carpet cleaning, and a new garage door cable assembly. We also noticed a water stain on the ceiling of the living room. However, something outside in the rear of the townhouse caught our attention. It was a woodpile near the back door. The woodpile was actually touching the rear siding, which is bad news because moist, untreated wood attracts termites.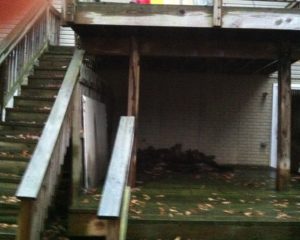 We decided to hold off on submitting a bid for the property, which would give us a chance to think. Bids must be submitted by close of business on Mondays. So we let the first Monday pass by, then asked the Real estate Agent if the property was still available. It was, however, the minimum bid price had been raised to $212,000 plus 4.5% premium! Since we were concerned about the possibility of termites, we decided to ask a pest control company to take a look at the townhouse. The national pest control companies, such as Terminex and Orkin, will usually provide a termite inspection for free. We already had a business relationship with an Inspector, so we contacted her and asked if she would perform an informal inspection and provide her opinion. It took a few days to make contact with her and coordinate the inspection. By that time, another Monday passed by and now the property was reduced to $162,000! Wow! We were definitely excited about the prospects of making a bid on a property that was listed at least $100,000 below market value! However, as experienced real estate investors, we always proceed with caution …
We arranged to have our Real Estate Agent meet the Inspector, which saved time. The Inspector confirmed that the townhouse did have termites, but not a severe problem. There were termites near the woodpile, and around the trim of the backdoor. She estimated a termite treatment would cost about $950. However, she had even more disturbing news for us. She noticed heavy, dark rodent droppings on the first floor and in the attic, which is an indication of rodent infestation. The fact that the droppings were noticed on the first floor and in the attic indicates that the rodents are in the walls! Yikes! She advised that it's difficult to get rid of a heavy infestation of rodents in townhouse developments because they run between the houses! We were so relieved that we took precautions and asked for an inspection.

We have never purchased a real estate property by auction. In our opinion, purchasing a property without benefit of inspection is risky. This recent experience confirmed our opinion! This experience also confirmed how important it is to have a really good Real Estate Agent. To learn how to find a really good Real estate Agent, click here. For beginner real estate investors, this is a cautionary tale. We could easily have sunk thousands of dollars into a property that needed more repair work than we estimated. The lesson is: do your research and proceed carefully! How to start? Click here.

The opinions expressed herein are solely those of the Author/WebMaster. Before taking any action, please consult your real estate, financial, and legal advisors.